Bed Sheets
Upgrade your sleep experience with our collection of luxurious sheet sets, from crisp percale sheets to airy linen sheets.
Cooler or cozier? Find the right fabric for you.
Pillowcases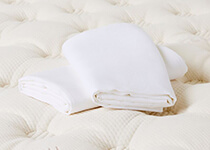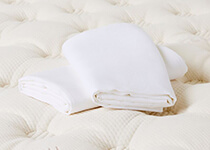 Linen Pillowcase Pair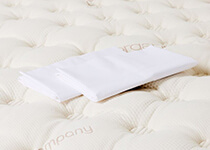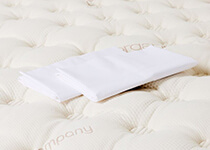 Organic Percale Pillowcase Pair
Sateen Cotton
Silky-soft with a luxurious drape and subtle luster
Woven from long organic cotton fibers in a tighter one-yarn-over, three-yarn-under pattern.
300 thread count is a bit warmer than percale cotton.
GOTS certified organic
Percale Cotton
Crisp, cool, with a luxe matte finish
Woven from long organic cotton fibers in a traditional one-yarn-over, one-yarn-under pattern.
200 thread count gives you the perfect balance of softness and breathability
GOTS certified organic
Linen
Airy with a distinctive textured feel and a relaxed elegance
Made with the highest quality Belgian flax
Very breathable, hypoallergenic, antimicrobial, and highly durable
Stays cool in the summer and keeps you warm in the winter
How to find the best bed sheets for you
Sheets made from natural, breathable, moisture-wicking fabrics like organic cotton and linen are ideal for hot sleepers.
100% cotton sheets with a higher thread count and warm, fuzzy fabrics like flannel do a great job of keeping heat in while naturally regulating your body temperature.
Opt for smooth, all-natural, organic fibers that are naturally dyed or undyed. All of our sheets are naturally hypoallergenic.
CARE TIP: Wash your sheets with mild, fragrance-free detergents and avoid scented fabric softeners and dryer sheets that can irritate sensitive skin.
Bundle your bedding and save
Upgrade your sleep by bundling our high-quality pillows and organic cotton sheets, so you can get back to the important stuff—like napping.
Save up to $60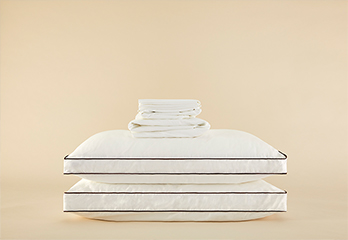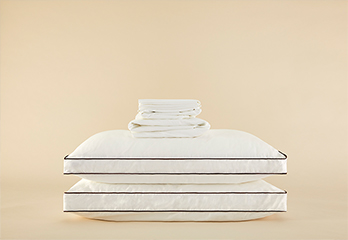 Sateen Sheet Set & Latex Pillows Bundle
Frequently asked questions
We're glad you asked! Machine wash your bedding in cold water, with like colors, on a gentle cycle. Do not bleach. Tumble dry low and remove promptly—we've made our bedding slightly larger to account for natural shrinkage after first wash. Mild, organic detergents work best.

Bedding products returned within 45 days of the delivery date will get a full refund to the original form of payment. There are no restocking or penalty fees for used products, but we do ask that you wash your used bedding before returning.

To make a bedding return, simply call 1-877-672-2882 or email info@saatva.com. If you received our bedding as a gift, please call us for help with your return.

The Global Organic Textile Standard (GOTS) is the leading textile processing standard for organic fibers. Fabrics that carry the GOTS symbol must be made with at least 95% organic fiber, free of toxic chemicals, colored with nontoxic dyes, and meet strict social and environmental criteria.

Thread count is the number of horizontal (warp) and vertical (weft) threads in one square inch of fabric. The higher the thread count, the warmer the fabric becomes. Our sateen cotton is made of a 300 thread count weave, which gives them the perfect balance of breathability and softness.

Percale refers to the way cotton fabric is woven on a loom. Percale is a traditional one-yarn-over, one-yarn-under pattern, producing an airy, lightweight fabric.

Percale sheets have a crisp feel with a luxe matte finish and provide great airflow, making them one of the most breathable sheets for people who sleep hot.

It depends on your personal comfort preferences and the type of sleeper you are. If you tend to sleep hot, sheets made with natural fabrics that are airy and breathable are your best option. Percale sheets made of organic cotton and natural linen sheets are the most breathable options around.

For cotton sheets, thread count numbers can range anywhere from 200 to 1,000. The problem is, you can only get so many threads onto the loom—and in order to increase thread quantity, some manufacturers sacrifice thread quality.

Another thing to consider is breathability. A higher thread count means more threads of fabric cramped together on a loom, creating a less breathable sheet that can trap body heat.

According to the National Sleep Foundation, the sweet spot for thread count in cotton sheets to maintain a balance of softness and breathability is between 200 and 400.

Deep pocket fitted sheets, like the ones in Saatva sheet sets, fit mattresses up to 16" high. If you add a mattress topper on your mattress that makes it over 16" high, you can use extra deep pocket sheets that can fit mattress heights up to 24".

Sateen sheets have a tighter weave giving them a silky-smooth feel with a slight luster and a nice drape. Because of its tighter weave, sateen sheets are less prone to wrinkling, but they can be slightly less breathable than percale and linen sheets. If you love the feel of smooth sheets and/or have sensitive skin, and don't tend to sleep hot, sateen sheets are a great choice.

It depends on your personal preferences and needs. Percale sheets have a crisp feel with a luxe matte finish and provide great airflow, making them one of the most breathable sheets for people who sleep hot. Sateen sheets have a tighter weave, giving them a silky-smooth feel.

Percale and sateen the different ways the cotton threads are woven. There are different types of cotton plants that produce cotton threads, the most common ones found in bedding are Egyptian cotton and pima cotton. Both are long-staple varieties of cotton, which means they make for a softer, more durable fabric, even at lower thread counts.

Percale sheets are typically more durable and less prone to pilling than sateen sheets. Just stay away from percale sheets with a very low thread count (in the 100s) as they will have a rough texture.

Percale sheets have a crisp feel with a luxe matte finish. Although they can be more prone to wrinkles than more tightly-woven sateen sheets, drying your percale sheets in the dryer can help get rid of post-wash wrinkles. Just be sure to remove them from the dryer quickly and read the care instructions carefully before washing.

Bed sheets come in every color of the rainbow. If you're interested in more eco-friendly sheets or have sensitive skin, you might want to stick to sheets made from organic natural fabric that are either undyed or dyed with nontoxic, chemical-free dyes that are better for the planet and your skin.

Surveys have shown that blue hues and light, neutral colors have a relaxing effect that help promote more tranquil sleep.

Sheet sets or bedding sets typically include these pieces:.

Fitted sheet: designed with an elastic hem to fit directly over your mattress (or over your mattress and mattress pad/protector).
Top sheet: sometimes called a flat sheet, this goes on top of the fitted sheet to add an extra layer of warmth. Some sheet sets on the market don't include a top sheet to give you the option of using your duvet or quilt in lieu of that additional layer.
Pillowcase/s: Saatva twin and twin XL sheet sets come with one standard pillowcase, queen size sets come with two standard pillowcases. King and Cal king sheet sets come with two king-sized pillowcases.