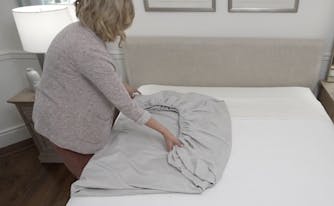 How to Fold a Fitted Bed Sheet: Step-by-Step Instructions
So you want to organize your linen closet. Great! This is one of the best things you can do as part of your annual spring cleaning routine—or anytime you want to declutter your home. 
The only problem? Those pesky fitted sheets could be getting in the way of your closet organization goals. Yep, anyone who's ever tried folding a fitted sheet knows it can be a frustrating experience. 
Have no fear: We're here to help you become a fitted sheet folding pro so you can organize your linen closet beyond your expectations.
Below, learn how to fold a fitted bed sheet and the best way to stack your sheet sets inside your linen closet. 
How to fold a fitted bed sheet 
Folding a fitted sheet is easy when you have the proper instructions. Watch the video below and follow these simple steps for perfecting your fitted sheet folding technique.  
Step 1: Identify the corners at the head and foot of your sheet.
Step 2: Placing your hands inside a head and foot corner, bring one side over so that it's tucked inside. Repeat this step on the remaining head and foot corner, then insert all four corners together so the sheet becomes square. 
Step 3: Fold the curved edge about an inch to create a straight edge lengthwise, then fold over to create a rectangle. 
Step 4: Fold up a short edge halfway. Then fold over again. 
How to stack your bed sheets
Here's a helpful hack to keep bed sheet sets neat: Fold your folded fitted sheet, flat sheet, and one pillowcase into a rectangle. Then, place the entire bundle inside the other pillowcase, folding any extra fabric into a rectangle. 
Stack bundles according to size (twin, full, queen, king, etc.) or by the room you use them in (primary bedroom, guest bedroom, kids' bedroom, etc.), and place them on a shelf or in a basket inside your linen closet.
This will not only keep sheet sets together so they're easier to find but will also make your closet look more organized. 
Find the perfect bed sheets at Saatva 
Folding your fitted sheets and organizing them in your linen closet will give your a great sense of accomplishment.
But don't waste time and energy with any regular sheets and bedding. Saatva offers a variety of high-quality sheets in different sizes and fabrics to make your sleeping experience as comfortable as possible. 
Whatever your preference, we have sheet sets to suit your style. Our sheets are made with soft, breathable materials like cotton and natural linen to keep you cool all night long.
Check out our sateen sheet set, percale sheet set, and linen sheet set to see which one is right for you.